Dr. Gene A. Youngblood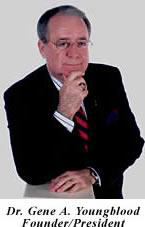 Holds three earned theological / academic degrees: the Bachelor of Arts, Master of Divinity, and Doctorate degrees.
Founder and President of Conservative Theological University, Dr. Youngblood is a Biblical scholar and renowned professor. In recent years he has been the guest speaker for many organizations, colleges, and universities, warning our culture of impending dangers facing our nation, including Islam, challenges to our 2nd amendment rights, and an imperialistic government. Having studied and taught for over fifty years on many theological topics, including Islam and other world religions, he is highly qualified to speak on many subjects. Dr. Youngblood's experience in research-writing, publishing, and teaching make him an invaluable resource of knowledge regarding theological, political, and current issues confronting our culture today.
Dr. Youngblood is married to Dr. Dorothy Youngblood. They have four adult sons, ten grandchildren and three great-grandchildren. Dr. Youngblood spent twenty years in his own real estate development company and seven years as traveling evangelist. He is founder and president of Conservative Theological University, Conservative Christian Academy, and Founder Pastor of First Conservative Baptist Church, where he now serves.
Dr. Youngblood formerly served as one of seven Commissioners on the Commission for Independent Education for the State of Florida. He has served on many boards throughout his lifetime. He also serves on the Board with Florida Council of Private Colleges and Council of Private Colleges of America.
He has a daily Radio Broadcast; ¨Let´s Face the Issues¨on FM91.7 / 91.3 / 91.9, heard daily from Brunswick, GA to Daytona, FL, Broadcast time 11:30 – 12:30 PM, Monday to Friday. The program can be heard via radio or internet (ilovethetruth.com)
Dr. Youngblood has authored many publications, writings, and books, including, "Could Jesus Sin? The Doctrine of the Impeccability of Christ"  . "Is Islam Tolerant?", "Is It Time for Revolution?", "Countdown to Calvary", "The Panorama of Prophecy", "Jesus Speaks to the Church", "The Coming Global Islamic Invasion", "The Doctrine of Self Defenses", "The Coming Anti-Christ", "Accreditation",  "The Church Usher's Handbook.",   "Please Do Not Go to Hell", and "Proofs of the Resurrection".  Several others are in pre-publication stages: "In Defense of Deity", "The Minor Prophets", "Islam's Assault of Christianity"and an exhaustive "Commentary on The Book of Revelation".
Dr. Youngblood has spoken for:
Republican Clubs
Local and Statewide Tea Parties
Act for America groups
Church and Civic groups
Freedom Rallies
Church Revival Emphasis
It would be our Joy to share the messages of our Pastor Dr. Gene A. Youngblood
We can ship the messages on CD / DVD and Cassette Tapes